Ladies and Gentlemen, we're floating in space…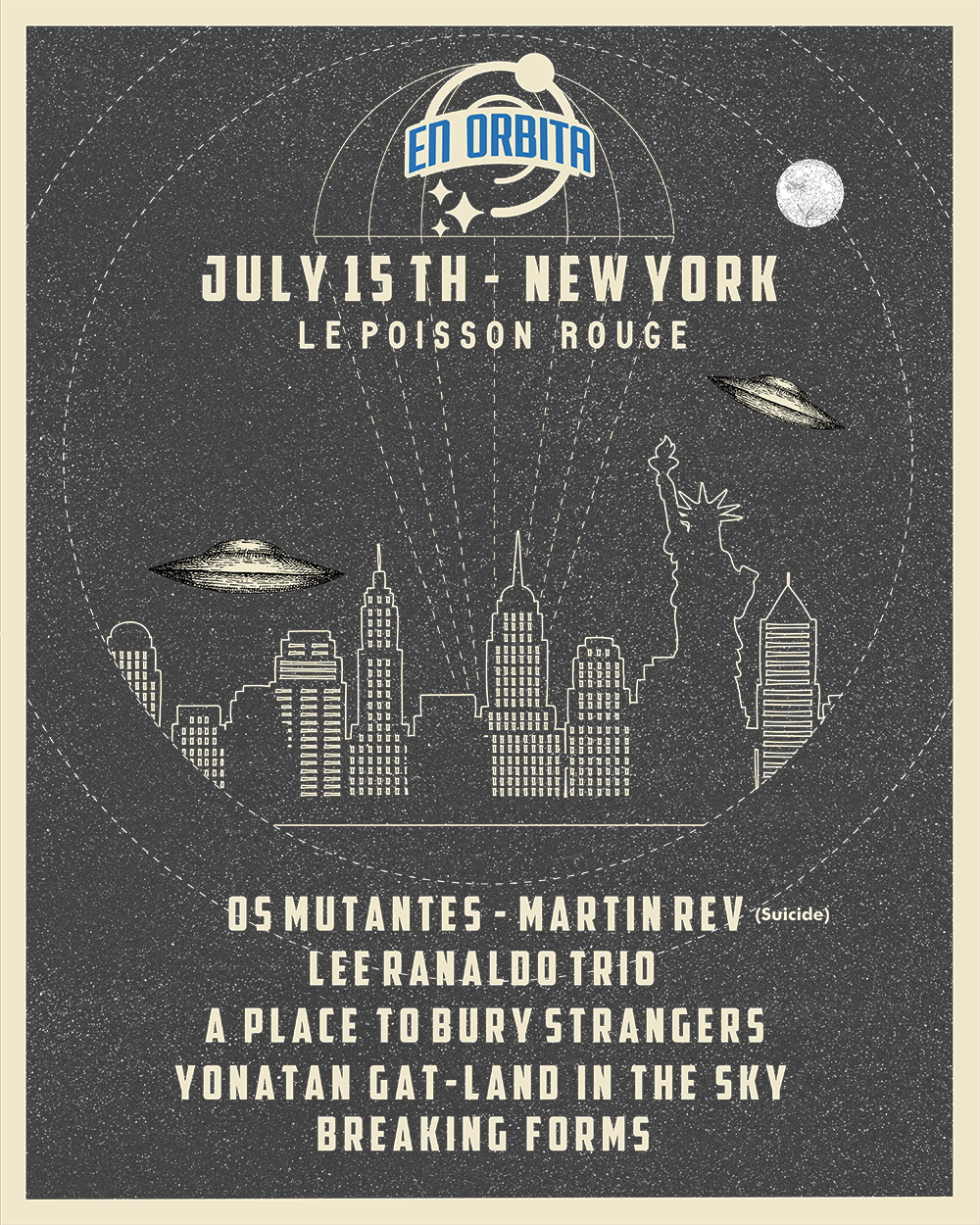 En Orbita was always intended to be a dialogue between science and music- an expression of how music connects across spaces, cultures… and potentially dimensions.
July 15, Le Poisson Rouge in NYC marks the third-ever edition of the festival, with a lineup for the ages. The festival will see performances from none other than the godparents of Latin American Psychedelia, Os Mutantes. Also sharing sounds is the outstanding and recently buzz-heavy Yonatan Gat- the former member of Israeli garage rock outfit Monotonix who recently has been captivating international audiences with his brand of spiritual noise (take a listen, you'll get it). Martin Rev from the legendary band Suicide will grace the space. Lee Ranaldo and A Place To Bury Strangers represents New York´s noise, Boston-based Chilean band Breaking Forms blesses the stage with what's been dubbed Bubbly Space Pop, and Tres Warren from the band Psychic Ills is releasing a new project with Berlin based, chilean architect and artist, Alfredo Thiermann called «Land In Sky». The record was published by the label Sacred Bones.
Alongside a quite otherworldly lineup, the festival will also include talks and exhibits, featuring the performing artists.
Nicole L'Huillier and Xin Liu, of the group Space Exploration Initiative from MIT Media Lab, will be presenting the work they have done which explores the connections between sound and vision, as well as what human expression means in outer space.
Telemetron, Orbit Weaver, and Teserrae are the three projects exhibit during En Orbita, all three of them created with the intention of exploring living systems for humans in outer space.
The main topic of the talks will be: creativity, why we do the things that we do, like the panel:
«Creating back then, creating now», presented by Lee Ranaldo (Sonic Youth), Sergio Dias (Os Mutantes) and Martin Rev (Suicide)
Or the conversation about the Telemetron: a music instrument built to be used in space or in zero gravity, with Oliver Ackermann, (founder of A place to burry strangers and the effects pedal company Death by Audio) and Lee Ranaldo discovering its uses and how it works.
Text by Phoebe Smolin
.
En Orbita in collaboration with Space Exploration Inititive, MIT Media Lab, presents: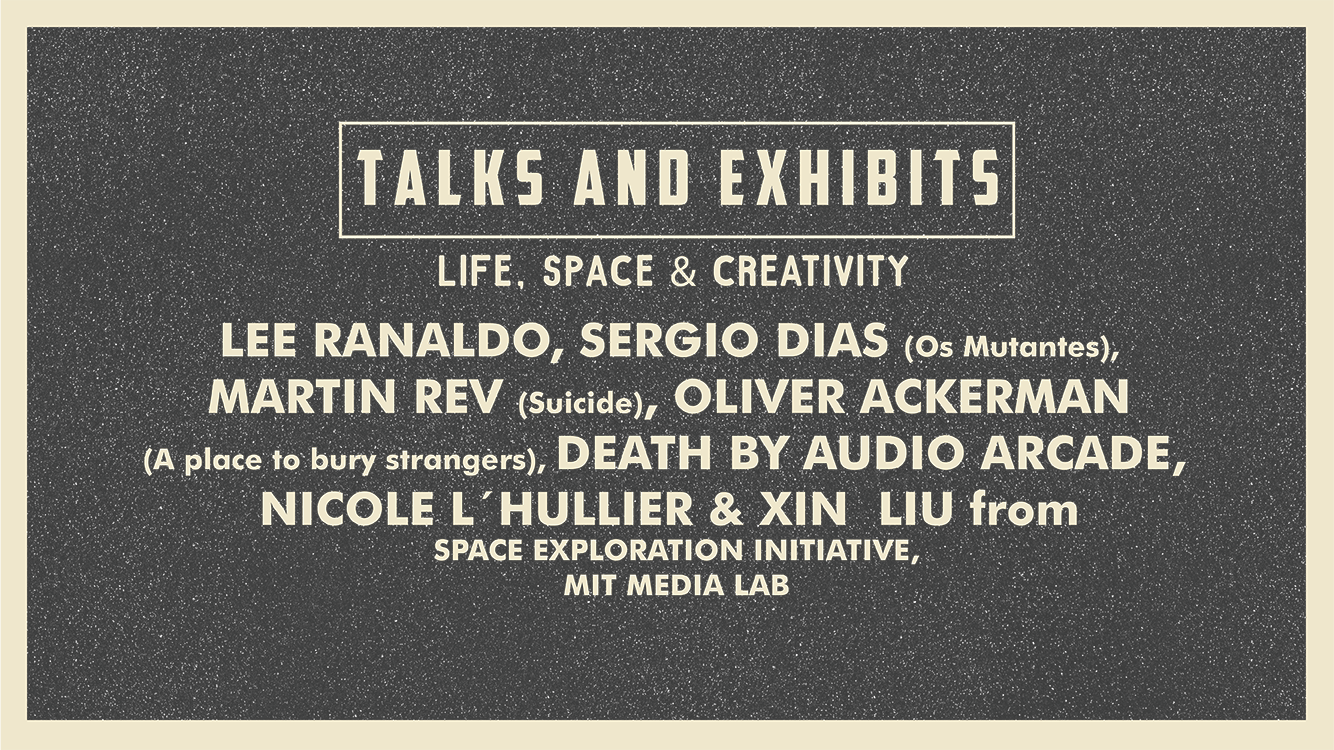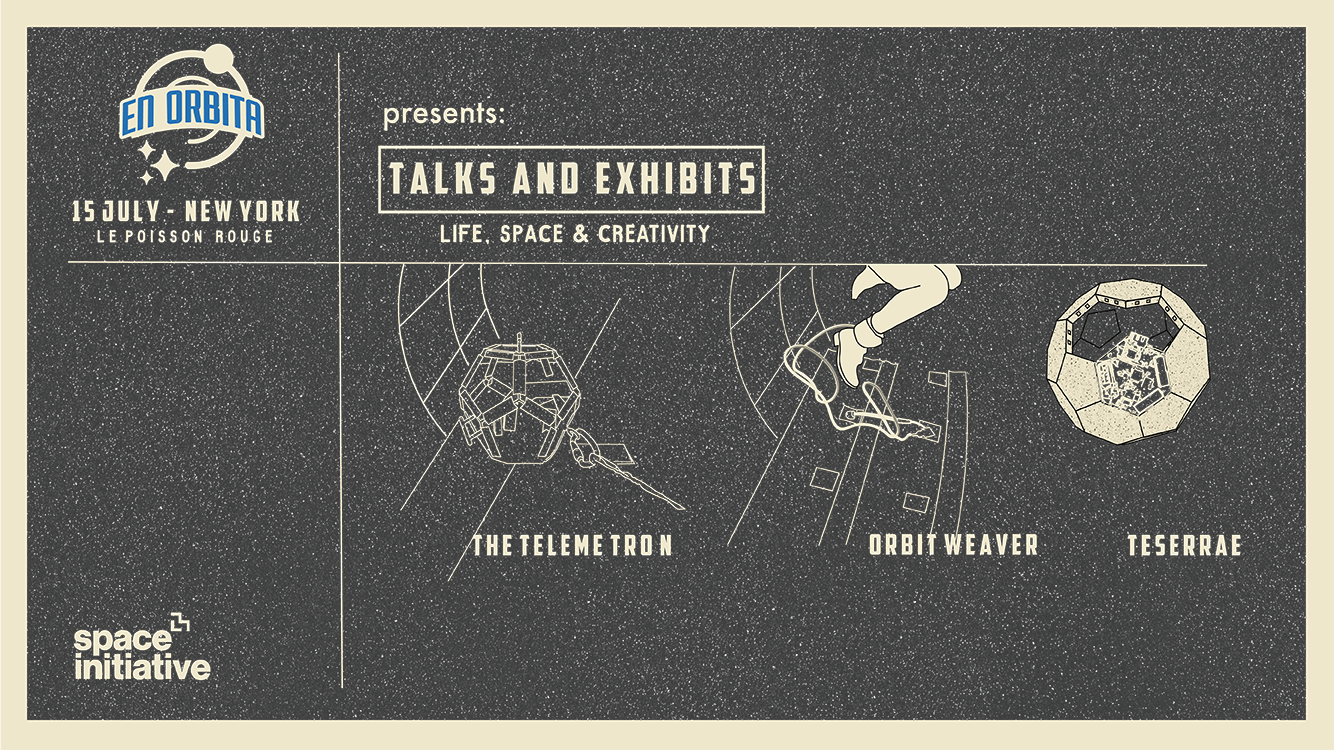 MORE INFO
THE TELEMETRON
presented by Nicole L´hullier
Today, the environments that humans occupy in space are designed for survival. Humans are carefully shuttled to and from space, and during their relatively short stays, they are provided with minimum supplies to remain alive and able to perform experiments. As we begin to plan less for short visits and more for life in space (such as a six to eight month trip to Mars and beyond) the question becomes: What does human culture look like in space?
Recorded as a beautiful audio-visual experience, this experiment opens the doors for new forms of creative expression, and brings the magic of space to musicians. We hope to reach beyond the utilitarian, and toward the inspiring.
Life in space 1PM – 3PM
MORE INFO
MORE INFO
TESERRAE: Self-Assembling Space Architecture
presented by Ariel Ekblaw
The future of human habitation in space, from Low Earth Orbit (LEO) to planetary systems far beyond, lies in self-assembling, adaptive, and reconfigurable structures. Rather than transporting the weight of gantries and risking astronaut Extravehicular Activities (EVAs), we can lower payload weight, reduce assembly complexity, and revolutionize space-structure modularity by relying on these new paradigms of construction and structure deployment. outer space.
MORE INFO
3PM-4Pm
Telemetron: creating and interpreting sounds from space
Presented by Nicole L´hullier

Moderated by: Lee Ranaldo and Oliver Ackermann, from A place to bury strangers.

4PM- 4:40
Launch of the A place to bury strangers pinball manchine
Panel: Building a Homebrew Pinball Machine with Death By Audio Arcade

Presented by: Mark Kleback, Andy Wallace, Dustin Long, Steve Litt

5PM- 6PM

Creating then, creating now

A conversation to deepen on how culture was perceived back then and how is perceived this days

Presented by: Sergio Dias, Lee Ranaldo, Martin Rev